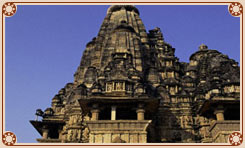 Kashi Vishwanath Temple, Varanasi
Kashi Vishwanath Temple and Gyanvapi Mosque:
Dedicated to Lord Shiva, the temple has earned the name of Golden Temple due to the gold plating done using one ton of gold donated by Maharaja Ranjit Singh on its 15.5-m high spire. Invaders destroyed the original temple and Rani Ahilyabai of Indore rebuilt it only in in 1776. Again, the fanatic Mughal Emperor Aurangzeb destroyed the Vishvanath temple to replace it with the Gaynvapi Mosque. However, one can still see the remnants of the temple in the intricate and fine artwork of the western wall of the mosque. Today, the Kashi Vishwanath Temple and the Gyanvapi mosque lie adjacent to each other.
St. Mary's Church:
Situated in the cantonment area of Varanasi, the architectural peculiarity that distinguishes St. Mary's Church from others are its louvered doors and hooded ventilation. It has a low tower, spire and projecting portico. The church looks beautiful with its plain timber canopy protecting the rectangular fanlight above each doorway and also impresses a major architectural impact.
Durga Temple:
The 8th century Durga temple is built in Nagara Style and is one of the most important temples of the city. The 'shikhara' of the temple consists of several small spires layered one on top of the other.
Bharat Mata Temple:
Dedicated to Mother India, it is situated in Mahatma Gandhi Kashi Vidyapeeth. It was built by Babu Shiv Prasad Gupt and inaugurated by Mahatma Gandhi in 1936. The statue marble of Mother India shows undivided India with mountains, plains and oceans in exact proportions.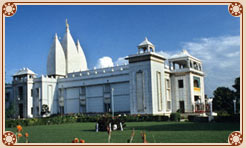 Tulsi Manas Temple, Varanasi
Tulsi Manas Temple:
Dedicated to Lord Rama, this temple is said to be built on the site where Goswami Tulsidas wrote the epic 'Ramacharitramanas'. It was built in 1964 by a philanthropist family.
Nepali Temple:
Built in Nepali style by the King of Nepal on Lalita Ghat, it is also known as the Kathwala temple because of the magnificent woodwork. Tourist attraction for visitors from all over the world, it is said to be incomparable to any other temple in India. It is said that the workers and the wood was imported from Nepal to build this temple and the its specialty is that termites do not eat the wood used to construct it.